And I know there are some of you out there that want a gift that is meaningful and EASY. Well I have come to the rescue! I promise I can deliver easy and meaningful. It's time for our Father's Day Mini-Session...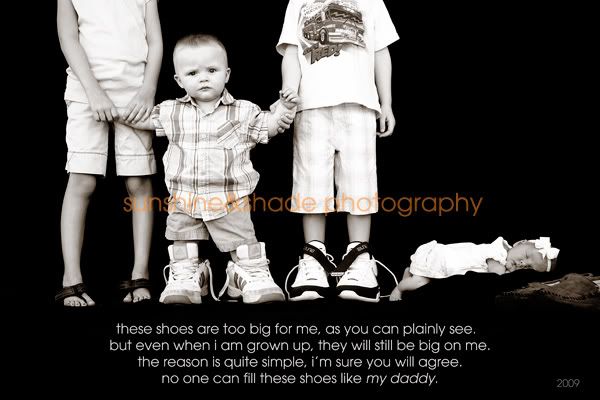 Come and bring each of your children a pair of Dad's shoes. We'll line them up and snap some photos. I will edit the best one to either black and white or sepia and add the quote in your chosen font. Once that is complete, I will email you the edited image for you to print. VOILA! Easy and meaningful...
(I promised, didn't I?)
The best part is, this session is only $15!!! Such a deal! Because Father's Day is fast approaching, we will be doing these sessions next Saturday, June 13. If you want in, all you have to do is email me and let me know if morning or afternoon is best for you, as well as how many children you have...I'll shoot you a confirmation email with your time and the location and we're in business! If Saturday really can't work for you, email me anyway and let me know what day works better for you, I can try to work in your schedule.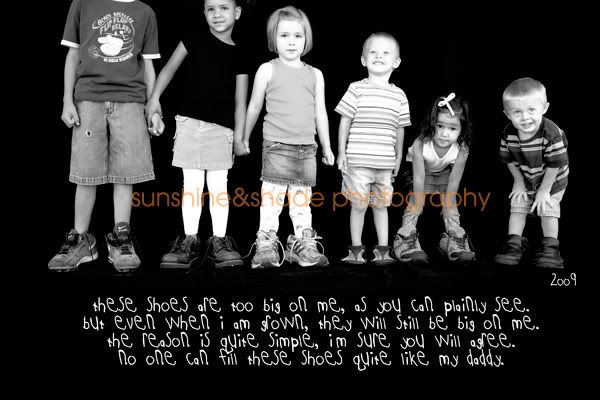 I'm so excited about this shoot, it is one of my most favorites!! So join up! I can't wait to hear from you!
I almost forgot to mention that I am willing to trade! If you have a product or service that you would like to barter, let me know what that is in your email and we can see if we can strike a deal!! :)